JOKER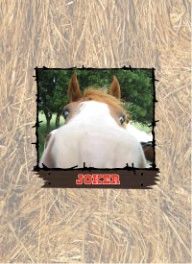 This hilarious looking fellow is none other than Dillon (also pictured on the 2 of SPADES along with Dusty.) The photograph is a candid shot of his inspecting inside the window of a passing truck. (Note the tiny rear view mirror on the right). What he really is after are treats. Obviously we couldn't resist sharing the humor in his goofy look. We think you'll agree, it makes a perfect JOKER!
_____________________________________________________________________________________
MONTANA & DALLAS
NEW YEARS RESCUE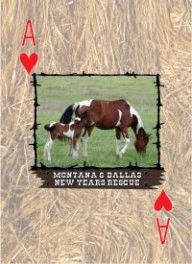 This beautiful mare was adopted in 2008 from a successful "27 horse rescue" . While most of you were planning a fun night out for the New Year celebration, a handful of dedicated equine angels fought to save 27 SOULS from slaughter. The fight was not about the possible loss of 27 HEALTHY horses, it was about how much money would exchange hands...& to compound the matter, timing could not have been worse. Where could these beautiful animals go?
They all had to be GONE by New Years Eve!
2009 photo.
*Due to the sale of their adoptive home, this pair has been relocated to a forever home where they will be trained, loved & actively ridden.
____________________________________________________________________________________
BARRON & ATHENA
ABANDONED WILD MUSTANGS
Both very strong healthy horses, Barron is a wild mustang pony-still very apprehensive around humans. Athena is a statuesque 9 year old alpha mustang mare. Fitting name Athena, for a chiseled muscular example of God's keen eye for excellence. Both were rescued in 2007 then adopted in 2008 after being abandoned by their former owner (Olie)-a cowboy drifter type, who just walked off his job & left the horses where he was living at the time. Both have known freedom, captivity & abandonment. Neither have been apart. They
were adopted to reside "together" in
their own pasture adjacent multiple small lakes on a 300+ acre ranch. They have again been relocated, but continue to roam openly to honor them as the wild horses.
_____________________________________________________________________________________
HOT CHECK
NEVER GAVE UP!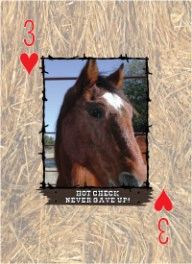 You may have guessed it already-Hot Check got his name after being paid for with a Hot Check on more than one occasion! He was a winning barrel horse for a young college girl who no longer would compete. She sold him to another young girls family & he continued his winning ways. Hot Check simply Never Gave Up! He gave his all in everything he did. You couldn't get near an arena or he'd head out full speed to go round the barrels. Sadly Hot Check is no longer with us. He broke his leg & even in today's advanced world of medicine, we still have no real solution for a horse with a broken leg. Hot Check had brittle bones, nutritional deficiency & had rapidly lost weight over the past year. The family felt they could no longer care for him & had already transitioned him to a friends pasture in hopes of his improvement. Hot Check had been on a long term downward spiral when he broke his leg above the hock. The same day he was put on an herbal nutritional program that immediately subsided his chronic scours. He began to gain weight & maintained his well formed stools yet-

despite his desire to push beyond the break, there was no chance of recovery. Multiple experts were consulted (3 vets) & amputation was discussed. Right up to the end Hot Check truly NEVER GAVE UP! He will be remembered for being a winner, but also for his valor, strength, nobility & honor. He was loved & will be missed by many! To honor Hot Check, locks of his mane are tied with a leather string to laminated cards which serve as reminders of Valor, Bravery, Never Give Up!... to be awarded to those deserving of this honor at spiritual retreats. Even in his passing, Hot Check can serve to remind each of us of such noble traits.
(eye photo above, taken on the day Hot Check passed away. It was 17 degrees & he had fallen on an icy surface. His leg was broken & there was no hope of recovery. Multiple vets & even A&M university, well known for their equine knowledge, was consulted to try to save him.)
_____________________________________________________________________________________
BELOVED BEAU
POLICE ACTIVITIES LEAGUE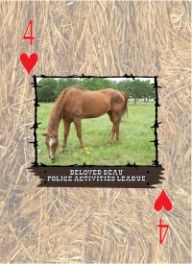 Proud, strong willed & still vibrant Beau found his way to a rescue years after being donated to the Police Activities League of Texas. Due to cutbacks, a "camp for kids with handicaps" was converted to a training location for State Troopers.
Horses had formerly been used to teach skills & responsibility, but Beau was no longer needed. His future became uncertain for a brief time. A loving caretaker of Beau's who had once lived where he resided, followed up on him after the camp. Kaye found Beau was no longer wanted at his new home so she immediately set out to place him at a safe haven. She feared he was at risk for slaughter if left to the open market of an auction sale. Today he is in good health, & is occasionally ridden both with saddle & or bareback on brief 2 hour outings at the rescue. Kaye had mentioned that Beau likes to be hosed down (& he absolutely does). In keeping with his love of water, it was discovered that Beau (upon request) will carry a rider into a tank circling the outer bank knee high as well as can be directed straight in to the center & actually swim in deeper water, all while maintaining a rider safely. He will even repeat this 4-5 times with no hesitation. (A short video will be placed here for readers to view.)
We'd like to pay tribute to the numerous national Police Activities Leagues for all that you do to protect our world. We also would like to acknowledge you for taking responsibility for your horses & their long term care. We hope that other individuals & organizations will follow your lead in supporting horses & specifically those that have have served you & continue to be cared for by your support-even after retirement.
___________________________________________________________________________________
BUCKSKIN CHAPS
APHA PMU FOAL
Born May 21, 2008 this adorable buckskin grew up to be a wonderful yearling-easy to approach & affectionate to humans. He has such a warm & loving personality. Chaps is sure to have all that a kind world can give when he embarks on his journey into adult life. His (then pregnant) PMU mom was saved from slaughter, otherwise this deserving dun would simply never have been born. Chaps is now halter broke & plans are in place for trailer training & round pen work to maximize his chances for adoption. He will also be gelded soon.
Newborn Chaps

Buckskin Chaps as a yearling.
Halter broke & adoptable.
_____________________________________________________________________________________
SWEETIE PIE & SWEETIE
SHETLAND MARE & FOAL
This little Shetland mare arrived pregnant & looking to give birth at any time. She already would follow you anywhere, so it was no surprise she was adopted right away. What a beauty she gave birth to. Given the herd Sweetie Pie ran with, it was also no surprise to identify the stud Sweetie had been with. Little Sweetie was the spitting image of Cherokee. (See King Diamond).
The affection between these two is evident in this loving photo. It looks like little Sweetie will surpass Mom in size VERY SOON!
_____________________________________________________________________________________
ROOSTER
PALOMINO GELDING
Over 300 pounds underweight, this hard keeper would follow you anywhere & lick you like a dog. Within moments out came a big slippery tongue that started low & went right up your hand or arm, & yes-even your face! How could anyone allow him to slip so far from good health?

An adorable photo op, Rooster happily poses with two young girls who visit the rescue. Don't worry, he didn't have to ride this way. Only one of the gals took a spin around the pasture-bareback with a lead rope (not even a halter & Rooster did great! ...of course we knew that BEFORE they set out to test Roosters patience.)
Get a look at Rooster all tacked out! He is one beautiful horse...& to think he was tagged a hard keeper & discarded as not worth the time to train! He literally was thrown in as an "extra" with a horse trade, but even then he wasn't wanted so he went to a rescue.

____________________________________________________________________________________
LACEY
& AMAZING DIXIE
Sometimes in rescue we just get it right! Nothing short of amazing, Dixie & Lacey are a perfect match! The story began in January when a local rescue put an announcement in the paper about 27 healthy horses arriving & all needing homes. The area was not particularly sensitive to horses in need, but something was different this time. Maybe it was that an entire herd would arrive. These were ALL healthy horses. Maybe the shear numbers caught everyone's eye, but fortunately supporters & adoptive families kept coming for at least a week after the herd was received. One such adoption was a small filly about 3 years old. She was chosen by her size & in the hope that she was not pregnant. Grandpa Leon hand selected her (now named Dixie) for their Grand daughter Lacey, a first time rider. Leon worked tirelessly teaching Dixie how to ride after halter breaking her. The process took only a month & Dixie & Lacey have been inseparable ever since. Shortly after the two began riding together, Lacey & newly trained Dixie attended a 4H camp.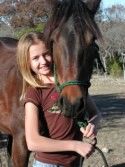 All the camp goers were astounded to learn this well behaved filly was a rescue horse who had been trained less than 2 months back. Dixie & Lacey even took home a few awards for their good work!
...Never underestimate what "consistent" human kindness, love, attention, food & care can do for any animal! Believe in an animal & in time the animal will know to believe in you!
_____________________________________________________________________________________
PMU
PREGNANT MARE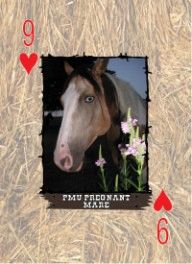 A unique picture of this pregnant mare near Impatients (purple flowers) at dusk.
...Some people pay money to get that permanent eyeliner look. Eat your heart out ladies-this gal doesn't have to do a thing in the mornings!! (Ha)

She is also pictured on the box as one of the KISSING mares!
Once a card, the photo ended up being shared as a box image.
This much enjoyed photo evokes captions like:
"Just nosin around"
"Hey did you see that new stud that arrived?"
...He's mine! No, he's mine! Mine. No mine!

...........................
Maybe you have a fun caption too?
Why not share it with us on our comments form.

_____________________________________________________________________________________
RITA
13 YEAR OLD MARE
This flaxen maned mare doesn't need the papers (although she has them) to prove she is #1 in breeding & show! Not your normal rescue, she was a welcomed surprise for an easy transition to a lifelong home. A burden, (extra mouth to feed), to a breeder who said she never threw a foal, Rita was already trained for riding unbeknown to the former owners. Fortunately the rescue had recently been donated a round pen... a critical assist to safely critique a horses skill level, but also to train, bomb proof, & discipline. To truly help an animal, there is a need for gaining trust, providing interaction, & being consistent with feed & contact. Adoptive homes are encouraged to bring a trainer along to assist in making their choice for a horse. A trainer may best evaluate a rescue horse-better yet, get the animal in a round pen. It improves the odds of making the very best choice for horse & rider! Follow this link to see photos of Rita being evaluated by experienced trainer Jody!
*This remarkable mare is now a family treasure, easy to load & rides most weekends with VERY PROUD DAD Clay.
_____________________________________________________________________________________
WALKER
PONY CROSS GELDING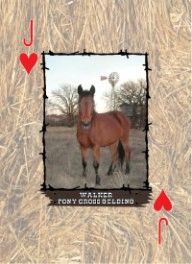 Later named Walker, this "curious colt" once got a bucket stuck on his head...you would have thought the bucket had attacked the poor fellow!
Walker had some training as a pony horse & was also halter broke.

Walker @ 3 yrs old with his new gal pal
Abby. He is now living on a 300 acre ranch with his own private pond & shelter, along with beautiful Abby. The two are hand fed daily!
_____________________________________________________________________________________
BLUE SKY
APHA MARE
Pregnant & gorgeous. She had only one blue eye, but this PMU paint captivated us all! She has come a long way since her arrival as a distant (but beautiful) mare. She & her foal are still at the rescue, but she now welcomes human touch & encourages her sweet foal to do the same. _____________________________________________________________________________________
SANTANA
APHA GELDING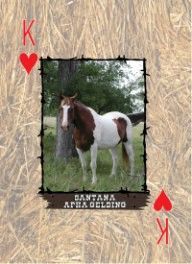 Santana is a GRAND, very stout, paint with a presence to match! Sadly he has ringbone, the equine version similar to human arthritis. Former owner, Mike, did not want to ride him anymore, for fear of hurting him. He also hated to see him slaughtered...so the family loaded Santana up & took him to a rescue where he could live out his days without pressure to be ridden or fear of slaughter or neglect. No one gets near Santana without commenting on his beauty. He is calm & also a father figure to young foals. Santana is still loved & followed up on by Mike & Misty who also periodically send funds. When Santana was delivered he came with a dowry to supplement his need for foot, bone & arthritic herbal formulas. Such funds assure a horse like Santana to be maintained with regular supports, something that is not always possible at rescues when funds are low and needed to go to feed rather than extra supplementation. THANK YOU to all the former owners who continue to aid their horses, either personally by allowing the horse to live out its life in its own home, or at a sanctuary or rescue who can provide care until a natural death.