JOKER
Maybe she's trying out for a HE HAW revival show??????????????
________________________________________________________

HE HE HE - HAW HAW

HE HE HE - HAW HAW

HE HE HE - HAW HAW

HE HAW!
________________________________________________________

*Due to popular demand, this card is being planned for a T shirt.
____________________________________________________________________________________
DAKOTA & ROWDY DALE
PMU MARE & FOAL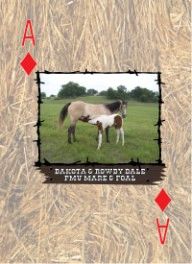 Riddled with whelps, poor hooves & very wormy upon arrival at the rescue, she was first identified as a Buckskin filly. This mask faced beauty turned out to be pregnant. Her first born was evident only in the final stages. Rowdy Dale was born March 31, 2009. Thought to be born on the same day a loving couple lost their first son, Rowdy was given his namesake in honor of the newborn lost. Also, the name Rowdy was so fitting! This foal was particularly playful & often jumped over things.
Rowdy would push his head into Moms side & nip her ears. He was indeed, a ROWDY fellow! In contrast, his behavior was totally different from other foals born within weeks- of each other. The females were quiet, calm & soft moving .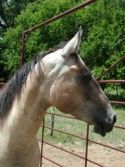 Dakotas head shot is featured on the box as well.
*Rowdy Dale is being considered as part of a driving team partnered with Annie Oakley.
Dakota has formerly been halter trained & has had some round pen work, as well as saddle training (non rider). She & Rowdy are available for adoption & residing at a rescue.
_____________________________________________________________________________________
MAVERICK & SGT MAJOR
EX-STALLION & YEARLING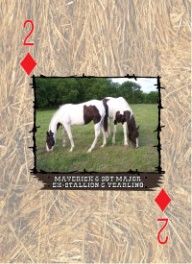 Thirteen year old former PMU stud, Maverick, pictured here with his offspring Sgt. Major, is now gelded & resides in Texas. He endured a long drive down from North Dakota in May of 2008. He & his PMU broodmare companions were all sold to slaughter. In an astounding twist of fate, the entire load was bought out from under the slaughter buyer by the coordinated efforts of Shirley Puga (a California Equine
Angel) & multiple generous donors. After being rescued, the herd was destined for Texas & on to California. During the long trip down, one mare dropped four times. Additionally, four other horses were simply not suited to continue the trip at the time of their
arriving in Texas. Had it not been for compassion shown by Tom, a caring truck driver who stopped to feed & water the herd along the trip, at least one sorrel mare (later named Navajo Red) would have been lost. The 7 PMU broodmares were grossly under weight & all were pregnant. The entire herd was in poor shape. One exception, a brown 4th generation world champion mare was uniquely vibrant, although thinner than she should be while pregnant. Her registered name was Koowla. She was obviously the alpha mare & had not suffered the lack of long term nutritional deficiencies that the other mares had endured. The stud, whom was originally thought in good shape, was seriously under weight, mentally disoriented from long term isolated confinement in a tiny stall, & was also lame. His deformed front hooves were over grown. He did not even stand until the 3rd day after his arrival in Texas. Once he stood, he literally stayed in one place. Primarily he laid down for months. When he did stand, he had what could best be described as a "nervous twitch" where he stood in one place, raised his front right leg 4-6 inches off the ground & twitched his head while lightly moving his hoof to the left back & forth. The memory of this once grand (now broken) fellow-mindlessly ticking away from years of abuse is heartbreaking. Was he in a space he might never return from? Over time he gained weight, & has been trimmed as often as possible. Maverick leads a seemingly normal existence overseeing his broodmares. He is the protector, although other geldings have joined the herd. Two mares were adopted, & later gave birth to beautiful PMU foals (see Thor & Me Me). The remaining herd co exists on 78-140 acres. They are all healthy, although Maverick fluctuates some in weight (due to stress from his laminitis). He needs regular hoof trims for a hopeful partial recovery. He also requires hoof nutritional support. Maverick no longer twitches and he stands up over 90% of the time. He still rests on the ground, but not for any long periods. Maverick is his chosen name because he is an independent horse, who lives on his own terms. He does not follow the pack-he leads it (although life now dictates that he physically follow due to limitations of body). He is now strong of mind & contented in his journey. He has finally found peace & is safe.
Registration: B&W Stallion-Oil Patch Smurf (APHA).
Early pain, abuse & neglect!

His hooves continue to be a challenge!
Maverick as of
2009

Too bad this hilarious
shot of Sargent Major cut his
nose off...it would have been a
shoe in for a JOKER!!!
We can all enjoy the laugh anyway!
*Halter broke, totally human friendly, & feet trimmed going on 4 times, this well bred, mellow fellow is still up for adoption at a rescue. He will make an excellent riding horse for anyone who will take him to the next level! An unusually superior yearling just waiting to be discovered!
_____________________________________________________________________________________





PERFECT BURST
RACE HORSE
Sold at an auction after his master died, his registered name is Perfect Burst- but I named him Cimaron.
He was purchased by a church school that offered riding lessons to children & adults. Later passed on to a sale barn when cuts backs were necessary, this lucky fellow was only 1 of 4 saved that day at an auction attended by at least 5 kill buyers. Trailers full of over 25 slaughter bound horses left after the sale for Mexico...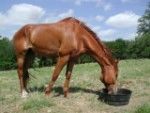 Cimaron upon arrival
at the rescue.
Look how
well he's
filled
out. 5/09


*Cimaron is halter broke & saddle ready, but somewhat soured on the actual idea of carrying a rider. He should be ready to go, but has discouraged riders at the time of mount more than once. Until he gets past this unsafe reaction to riders, he will remain at a rescue or for non rider adoption. He is attractive & vocal at feed time by announcing his arrival to the feeding area. He is dominant with pasture mates at mealtime, but otherwise no problem if fed alone.
_____________________________________________________________________________________





ELVIS



COWBOY'S FRIEND
A sign of the times, even rescues have to close their doors.
In fact
there are rescues of rescues! It is not
hard to imagine how quickly a rescue can brim over with animals needing homes.
Thank goodness for foster homes, donations, sponsors, volunteers, and rescues that stay within their ability to survive. This sweet, one blind eyed horse, Elvis, was once a cowboy's friend-so much so that he purposefully placed his dear
(Card photo taken upon Elvis's arrival at the 2nd rescue.)
friend in a res
cue. A few years later that rescue had to close its doors.
How wonderful this fine, still active, fellow still lives a quiet p
eaceful life within a small herd...A dramatically different outcome if lost to the hands of a kill buyer who would cram as many horses as
would fit (even if they don't all survive the trip) on a
double-decked bus to Mexico ...later
to be served up as the main course at a Eur
opean diner!
(Elvis is halter broke, easy & safe to work with, & a candidate for teaching children responsibility, grooming, saddling & other equine skills .)
Elvis is blind in his right eye. Upon arrival to the rescue his nonseeing eye was immobile, & an all white star burst pattern. He now recieves an herbal eyebright formula in his diet & appears to be regaining color & sensitivity to the eye. Notice the dark definition framing the eye which was not formerly there! (Note: The original intention to supplement the eyes was to strengthen the retina & deter possible deteriation from affecting the other seemingly healthy eye. The changes in the blind eye may be an example of how restoring nutrional balance can often begin to reverse genetic areas of weakness.)


ELVIS
June 2009

_____________________________________________________________________________________

SCOUT
PALOMINO FOAL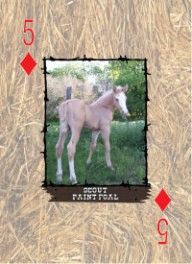 Some would say this darling boy is a mistake, one too many foals unwanted...after all, mom was already going to slaughter. Needless to say his color is outstanding & his markings unique. Once weened from Mama this very smart boy has a full life ahead of him!

Scout is also featured on the box.
Scout has been adopted & will reside with another foal named LUNA
(formerly Cat Ballou). He will be personally trained & cared for, given ongoing training. There are great expectations for his superior performance. Scout will receive well balanced nutrition, consistent positive reinforcement, love & a safe environment!
_____________________________________________________________________________________

FANNIE & ME ME


APHA MARE & FOAL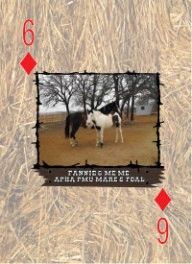 This beautiful mare & foal are named Fannie & Me Me. Their caretaker, Ann, is a loving woman who drove with a friend, Stacy, to check out the mares that had just arrived from North Dakota at the rescue. What Ann didn't know was that Fannie, a pregnant PMU mare at the time, already had set her sites on Ann...

Registered: Bay & White Mare- Oil Patch Fanny (APHA)
Fannie & Me Me are doing well. Ann is considering a move & has kindly asked the rescue to care for the pair while she searches for a new property with adequate facilities for not only Fannie & Me Me, but 2 other horses who will make the move as well. We'll keep you posted on their new home when that time comes. Meanwhile they are expected back at the rescue/sanctuary September 1, 2009 for a brief stay.
_____________________________________________________________________________________

SADDLEBRED MARE
NEW YEARS RESCUE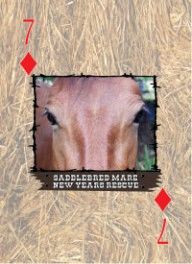 This mesmerizing stare comes from a pregnant mare named Miss Sassy, who later gave birth to a delightful pony born on the calendar vernal equinox...
If you appreciate the accoutrements of your mare, you'll love this photo.
(Thought to be a bit too artsy for some, it was eliminated from the deck.)






_____________________________________________________________________________________




REBA RITA


AQHA MARE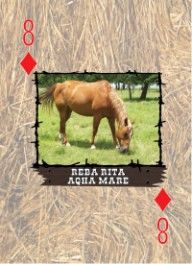 A concerned gentlemen called a rescue & asked if they'd take his mare.
It seems no one wanted her. With further exploration it was revealed she had no known problems, was very attractive & extremely strong-even down right healthy. "She's not your normal rescue horse, sure we'll take her. In fact, she should be easy to place. We can find her an appropriate safe home where she can be loved, ridden & appreciated!" You could hear the change of tone in his voice & the specific expression of gratitude- "I'd called everyone, & no one had room for her. I don't want her to go to slaughter. My wife doesn't want to feed her anymore & she simply won't throw a foal.
" ...and the rest is, as they say "history". She is an outstanding mare of above average looks & performance. Her new primary job is trail riding, but she is capable of many tasks. Thank goodness the owner took the time to place her where she could be evaluated & adopted to a loving home. Remember also, a place able mare like Rita can offer income to a rescue. Rescues often carry an ongoing financial load because of horses that are not adopted. Pairing a healthy horse with a rescue who has a list of pre-screened responsible contacts (ie. homes desiring horses), is a win for ALL PARTIES!

Registered name: Reba Rita
(Three Bar, Peter McCue, Dan Tucker, Poco Bueno Doc Bar...)
_____________________________________________________________________________________





PHANTOM
PMU MARE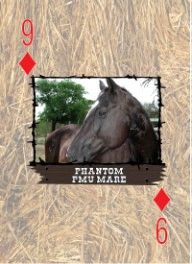 The strength in her neck, the sheen of her coat, the sparkle in her
eye, are all masking the memories of
her confinement as a PMU
broodmare in North Dakota. Can she know she was sold to a
slaughter buyer? Her life & those of her fellow pregnant broodmares-what few remained of a PMU farm, were all bartered like chess on a chess board-for weeks until their lives were spared.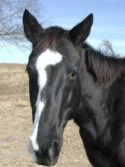 A California equine angel stepped in, with the help of a dedicated truck driver from Texas & generous anonymous donors who saved 9 lives...
Registration: Black Mare-Sonny and Share (APHA).
_____________________________________________________________________________________




GYPSY
32 YEAR OLD MARE
This gal was one fine horse in her day, in fact, she still can hold her own. She arrived exhibiting trepidation. Obvious fear of her new surroundings shown clearly on her face & in her eyes. Gypsy has no known ailments
and is an easy keeper. She has special nutritional needs to best suit her age, as well as requires more frequent-smaller meals, but then again we'd all be better off if we ate less more often?! Her boyfriend is Van Gogh (I'll let you find his photograph card-KING of Spades). Her pasture pal is Elvis (Cowboys friend-above story). The "3" are never seen without the others.
Over time her eyes have softened. She accepts daily hugs & light kisses without moving away. Independent by nature, Gypsy prefers
to walk herself into her stall at
feed time, but will allow a
halter. She normally
acts uninterested when carrots & apples are handed out in the evening, but one day surprised us all by partaking in BOTH! (Who knew?)
Gypsy's vibrancy continues to improve today. Sadly due to her age no one will adopt her, but she is welcome to live out her days on 1/4 of 148 acres with its own tank & 7 other geriatrics who roam freely, & are fed twice daily.
_____________________________________________________________________________________






BIG BEN
PERCHERON THOROUGHBRED

A strapping 17.5 hands tall, this sweet speckled gray gelding has been rescued from slaughter more than once. Originally a steadfast PACK HORSE used in the Colorado mountains to carry heavy loads of slain Elk, Ben's front shoulders just could no longer support all that was demanded of him.
Ben's right eye is also featured on
the box.
Traded off for a quick sale, a kind couple took a chance on this fellow. In the years that followed a loving bond was made forever between horse & rider!
Melinda & Ben were quite the trail riding team-he grand in stature, she full of love for life & all of Gods creatures.
Photo op at the rescue!
Ben & Cat, a visitor at the rescue.
(Ben is also an excellent light riding horse for children & adults.)

*Ben continues to "fill out" & is simply gorgeous, well mannered & totally intelligent.
He is patient & a joy at the rescue, his forever home due to his inability to be an active ridding horse because of his arthritic shoulder.

_____________________________________________________________________________________




CREMELLO
APHA MARE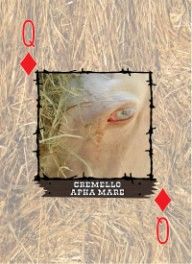 Uniquely colored, this rare Cremello
colored PMU paint mares soft blue
eyes stare softly into the distance. I wonder if
she knows her beautiful
buckskin foal could have been but another loss to slaughter?
(Cremello is the Mom to Buckskin Chaps/ 5 Heart .)
Registration: Cremello Mare - Miss Patch Pilot (APHA).
Long past her abuse
pictured May 17, 2009.




...There is more to the story. A woman had searched for months looking for information about her horse, a sibling of Cremello's. To be continued.
_____________________________________________________________________________________





CHEROKEE




NEW YEARS RESCUE



Arriving in the middle of the night with the rescue of 27 horses originally bound for slaughter that New Years Eve, this impressive stallion, is now gelded...


Cherokee with Anna McNallie -his first time in the round pen!
Cherokee featured here
in a complete training session

with Oklahoma roper
Harold Barnes!